blog
Guest post: Implementing the Statistical Standard for Gender Identity: How should Stats NZ ask the question?
17th Mar 2017
blog
Guest post: Implementing the Statistical Standard for Gender Identity: How should Stats NZ ask the question?
17th Mar 2017
Gloria Fraser, Victoria University of Wellington
Statistics New Zealand's decision to include categories beyond 'male' and 'female' in a new gender identity statistical standard has been hailed as a "world first". And, unfortunately – it is. We live at a time when an exploding body of research documents the alarmingly high levels of violence and discrimination experienced by trans people, when trans women and girls appear on the cover of Time and National Geographic magazines, and when we are having more conversations around gender neutral bathrooms than ever before. In spite of this, the overwhelming majority of gender identity questions on surveys, healthcare intake forms, and censuses around the world continue to offer just two response options. With this standard (and restrictive) measure of gender identity, it is impossible for trans people to be counted. Nonbinary people are rendered entirely invisible; they cannot select either gender item, so are excluded from reporting their gender at all.
The use of a 'male'/'female' tick box to measure gender identity is more than just poor methodology; this has serious consequences for the health, wellbeing, and social inclusion of trans people. Without accurate gender identity data it is impossible to establish the size of the trans population in New Zealand. International research estimating the proportion of the population who are trans produces wildly varying results; data from presentations to overseas gender clinics give estimates as low as 4.6 people in 100,000 (perhaps because they ignore that not all trans people present to specialist clinics for gender-affirming healthcare). Another study claims that the number of people falling under the trans 'umbrella' may be as many as 1% of the population.
Population size partially determines the amount of funding that is allocated to serving the needs of a particular group. Because most official records do not capture data on trans people, trans New Zealanders are, most likely, receiving far less than their fair share of medical and mental health care. On top of this, with every research survey, census, and demographic form that fails to acknowledge the fluid and non-binary nature of gender identity, the common cultural gender binary is legitimised and reinforced. We need gender identity measures that challenge this binary, ensure all New Zealanders are counted, and give people the opportunity to correctly identify their gender.
It is wonderful that Statistics New Zealand has decided to collect gender identity data, and to ensure that their measures are inclusive of trans and nonbinary people. For the reasons outlined above, the importance of this data cannot be understated. If Statistics New Zealand do this right, New Zealand would be in an absolutely unique position. We would have population-level data about the needs of trans people, which could be linked with health data (e.g., cancer registrations) to generate urgently needed transgender cohort studies.
Statistics New Zealand has not announced how the gender identity question in the 2018 census will be worded, and when I contacted them recently I was told that this decision has not yet been made. The classification of gender identity that has already been released, however, suggests that the direction in which Statistics New Zealand is heading may not be quite what we hoped.

Statistics New Zealands classification and coding process, released July 2015.
Upon release of the statistical standard, trans community members pointed out that this method of classifiying gender identity is othering – it separates trans and nonbinary people from the cis population. Statistics NZ has also used terminology which is frustrating for many in the community, such as "transgender male to female" and "transgender female to male". A recently published paper by leading scholars in the field reflects these concerns: Pega and colleagues note that the standard may "obscure some of the complexity within the broader transgender population", is not intersex inclusive, and does not guarantee that all trans people will be counted. What is to stop a trans woman from identifying as female or wahine, either to avoid othering herself, or because this is a more accurate reflection of her identity than 'trans' or 'gender diverse'?
I do not envy the job of Statistics NZ. Somehow, they must (1) collect data that identifies trans New Zealanders, while (2) not othering trans people. It seems that it is easy to meet one goal, but is it possible to do both? Let's think through some options.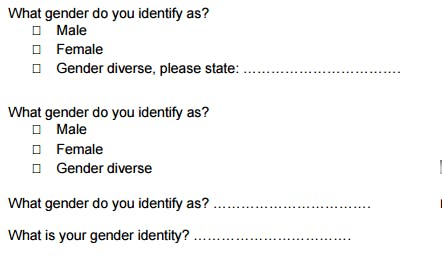 Statistics New Zealand's suggested examples for phrasing gender identity questions.
Personally, I'm a fan of the open-ended box. It allows people to freely self-identify so it isn't othering, it doesn't require people to choose between identity labels, and it doesn't ask people to take on identity labels that might not feel right for them. This question alone, however, doesn't get around the problem mentioned earlier: if someone writes in "woman", how do we know if she is cis or trans? We need to face the fact that this matters – if we don't know this, we can't count trans people, and we need good data to fight for policy change and funding increases.
The other two options also face this problem – with just one item, we cannot guarantee that we have identified all trans people. On top of this, I seriously doubt there are many people out there who individually identify as "gender diverse" – while this may be a suitable umbrella term, individual identity labels tend to be slightly more specific.
One alternative option, that may meet both goals of (1) collecting data that identifies trans New Zealanders, while (2) not othering trans people, is to ask the question in two steps, by firstly asking about gender identity, and secondly asking about sex documented on a person's original birth certificate. This way, trans women and men can identify as women and men, while being identifiable as trans because their assigned sex at birth differs from their gender identity. This option is recommended by the Centre of Excellence for Transgender Health.
Because I doubt that Statistics New Zealand has the resources to code open-ended responses from the entire population, the gender identity question would probably be best answered by selecting options from a categorical list. Respondents should be able to select multiple options, so they do not have to choose between, for example, identifying as a woman and identifying as trans. Empirical evidence suggests that these questions are easily understood by the general population, even if some don't understand what it means to be trans, genderfluid, nonbinary, or agender. An example follows:
How do you identify your gender? Please tick as many as apply.
Male
Female
Transgender
Genderfluid
Nonbinary
Agender
Different identity (please state) _________
What sex were you assigned at birth, on your original birth certificate?
Male
Female
Indeterminate
No sex listed
As with any measure of gender identity, this measure is not perfect. Perhaps most worryingly, it asks people to disclose their sex assigned at birth, which has potential to be uncomfortable or distressing. Because of this, it will be important for Statistics New Zealand to explain why this information is so crucial to collect. On top of this, it is impossible to construct a complete list of gender identities, meaning that some identities will always be excluded from listed options. Hopefully, the inclusion of an open-ended box will ensure that people of all genders can accurately describe how they identify, and could be an important space for culturally specific identities such as takatāpui, whakawahine, tangata ira tane, fa'afafine, and akava'ine.
Statistics New Zealand may object to these suggestions on the basis that this kind of information is too complex to collect, code, and analyse. In response to this, I argue that it is unacceptable to lump such a diverse group into one umbrella category, as this leaves unexamined the needs within this group. The time has come for the collection of high quality gender identity data, where people of all genders can identify as they wish and be counted. Statistics New Zealand needs to ensure that no New Zealander remains invisible.
Gloria Fraser is a doctoral candidate at the School of Psychology at Victoria University of Wellington. She is particularly interested in the intersection of sex-sexuality-gender diversity and clinical psychology. Her doctoral research focusses on queer experiences of mental health support in Aotearoa. Gloria is also a research coordinator for the New Zealand Attitudes and Values Study (NZAVS). Gloria has used NZAVS data to develop a gender identity statistical standard for coding open-ended responses. This can be accessed as a technical document via the NZAVS website for use by other researchers.